More than 600 Buddhist delegations from 90 countries and some 10,000 Buddhists nationwide have registered to attend the United Nations Day of Vesak. Preparations for the celebration are almost complete, according to the organizing board.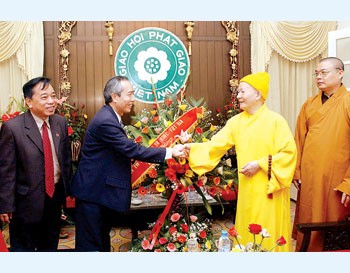 Mr Huynh Dam congratulates the Viet Nam Buddhist Sangha's dignitaries on the occasion of the Lord Buddha's birthday in 2008.
The International Organizing Committee, National Coordinating Board, and the Viet Nam Buddhist Church held a final press conference Monday before the opening ceremony of Vesak 2008 scheduled for Wednesday.
Meetings and preparatory activities were held in many places around the country.
Mr. Nguyen Thanh Son, acting chairman of the Committee for Overseas Vietnamese Affairs and deputy head of National Steering Committee and Venerable Superior Thich Gia Quang, deputy secretary of the State Management Committee for Viet Nam Buddhist Church met overseas Vietnamese Buddhists, monks, nuns and believers from the Czech Republic, The Netherlands, the United States, France, and Belgium.
Mr. Son informed participants of government policies, especially religious policies, and emphasized that the government respects freedom of religion and belief. The UN Vesak Celebration is clear evidence of this respect.
Overseas Buddhists shared their aspirations and opinions to promote the relations between Vietnamese overseas and those in the home country.
In Ho Chi Minh City, the Pure Land Buddhist Home-Practice Association of Viet Nam held activities to celebrate Vesak and organized its annual convention, which attracted the participation of over 300 representatives of various religions around the country. The convention selected a committee of 12 with Mr. Nguyen Phuong Hieu as a chairman for 2008-2009.
In southern province of Tien Giang, a requiem was performed for the heroes who died for the country. About 300 presents worth VND150,000 (US$9) each were offered to families.
In the former imperial capital of Hue, numerous ceremonies were held in Dieu De and Tu Dam pagodas. The city is hosting a series of cultural activities, including musical programs and an exhibition of photos and Buddhist antiques.
The remarkable artwork "Seven lotuses symbolizing the first seven steps of the Buddha" is currently displayed on the Huong River.