The economy has been on recovery momentum easing the pressure on budget balance this year and following years. Still, overspending in 2014 and 2015 has not been solved while revenue has faced with many difficulties in short term because of a reduction in some major income sources.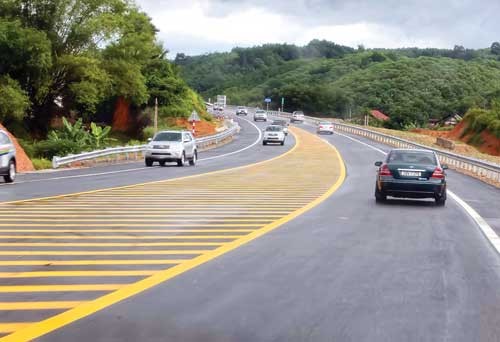 Noi Bai-Lao Cai Expressway is one out of five projects which the Government allocated ODA capital to speed up progress instead of re-loaning (Photo: SGGP)
According to reports by the Ministry of Finance at the 49th session of the Standing Committee of the National Assembly, budget deficit hit VND260,145 billion accounting for 6.61 percent gross domestic product (GDP) in 2014 despite economic difficulties. That is VND36,145 billion higher than the NA's decided level with many expense items out of estimates.
The Government allocated VND10 trillion official development assistance (ODA) funds to some projects of Vietnam Expressway Corporation instead of re-loaning as per plan, showing lax budget discipline: spending before reporting.
Of these, VND1,255 billion was spent on speeding up the progress of Da Nang-Quang Ngai expressway, VND6,231 billion on HCMC-Long Thanh-Dau Giay and VND838 billion on Noi Bai-Lao Cai.
ODA capital disbursement highly increased in 2014-2015 because the Government will no longer allocate but re-loan this source from 2017 forcing localities to think about using it.
 
Associate professor and Dr. Tran Hoang Ngan, director of Ho Chi Minh City Cadre Institute, said that overspending is a chronic disease in Vietnam and consequence of lax and irresponsible spending in localities.
The adjusted Budget Law has been passed but will just take effect in 2017 while public debt has hit ceiling level and continued increasing. Therefore, the Government should have a serious view and decisive actions to settle overspending, he said.
Budget discipline must be placed on top. The role, duty and responsibility of localities should be underlined and responsibilities of agencies should be specified instead of being as vague as they have been.
It is too late to discuss 2014 accounting by mid 2016 as everything has been done causing it impossible to make any adjustments. The NA has remained passive as everything has been done and reversible and had no sanctions to handle overspending, Mr. Ngan said.
Dr. Do Thien Anh Tuan, from Fulbright economic program, said that budget revenue was improved by the end of last year to reach VND884,800 billion accounting for 97.1 percent estimates.
Of these, domestic income hit VND657 trillion, 2.9 percent exceeding estimates. The highest increase was from environmental protection tax, agricultural land use tax and other housing and land incomings. However their contribution ratio was not high.
Meantime, crude oil revenue reached only VND62.4 trillion accounting for 67.1 percent of estimates. Exploitation output increase was unable to make up price fall, resulting in crude oil income drop, equivalent to only 7 percent of 2015 budget revenue.
According to Dr. Tuan, regular spending increased to 80 percent of total budget expenditure last year and the rest 20 percent was for development investment excluding debt payment. The budget structure has leaned towards consumption rather than investment.
Spending estimates approved by the NA was VND767 trillion but the practical number surged by VND112 trillion to VND879 trillion. Expenses on investment and development was estimated to hit VND203 trillion, 4.2 higher than estimates.
Total expenditure thus neared VND1,100 trillion far exceeding the total revenue of VND927.5 trillion as per reported by the Ministry of Finance, leaving VND154.5 trillion in budget deficit, holding 3.45 percent GDP.
The number excludes debt payment and aid amounts touching VND150 trillion.
After adjustment, budget deficit might raise to 6.8 percent GDP not 5 percent as per the NA's estimate.
2016 plan
Total budget revenue is estimated to approximate VND1,000 trillion for the first time in 2016, equivalent to 20 percent of the year's forecast.
Of the number, crude oil is estimated to contribute only 5.4 percent of total revenue and export import income reduction is likely because many tax lines will be cut for international integration.
Domestic revenue is forecast to reach VND785 trillion, up 23 percent over estimates and 20 percent against 2015. This is a good signal but also portends difficulties for businesses and the economy.
Meantime, spending is forecast rather high with over VND1,270 trillion, up 11 percent over estimates. Positive sign is that the government has increased spending on development investment from 20 percent last year to nearly 24 percent this year and cut regular expenditure from 80 percent to 76 percent in budget balance excluding debt payment.
Debt payment and aid amounts will be equivalent to 2015 of VND155.1 trillion, a rather high level amid current budget balance conditions. In addition, the Government will spend VND13,055 billion, up VND10 trillion over 2015, on wage reform and regular workforce streamlining.
Hence, budget deficit is estimated to hit 4.95 percent GDP, down 0.05 percent over 2015. The reduction rate is not significant but still shows the Government's effort to slash overspending.
 
However the long term problem of Vietnamese budget is low discipline and transparency.
For instance, if budget deficit is VND254 trillion, the Government will be permitted to get loans of similar amount.
Still according this year plan, the Government is expected to mobilize up to VND409 trillion including 254 trillion to make up the overspending including funds for debt payment, VND95 trillion to pay off-budget debts and VND60 trillion to finance government bond investment programs.