The state budget raised heated debates in the National Assembly on Tuesday. Most legislators showed their concerns over budget revenue, government procurement and distribution for 2007.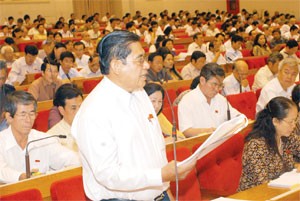 Deputy Lam Van Ky of Soc Trang province raises his opinions before the National Assembly on Oct. 24

According to a government report, the state budget revenue of 2006 is estimated to reach VND259 trillion; up 19.1 percent from 2005.

Deputy Le Kim Toan, of Binh Dinh province, sees the result as positive. However, the budget is not stable because annual revenue was not from business and production, but instead mainly dependant on the exploitation of crude oil, land sales and the lottery.

"The government should reduce the revenue from resource exploitation to increase the stability of the budget revenue structure and preserve our natural resources," he added.

Deputy Dang Van Xuong of Long An province said it is highly likely that they will be able to increase the state revenue of 2007.

Sharing the same view, Ha Tay province's Tao Huu Phung theorized that revenue could be boosted in the land, housing and non-state business sectors.

Many deputies agreed that if the government had stricter measures to control squander, the rate of overspending might be lower than the present five percent of GDP.

According to Soc Trang province's NA deputy Lam Van Ky, haphazard investment in the construction of roads and irrigation are causing great losses in the state budget.

In agreement, deputy Tao Huu Phung of Ha Tay province pointed out that infrastructural investment should focus more on quality and effectiveness.

Some legislators simply blamed corruption and wastefulness for the government's overspending.