Budget revenue was estimated to reach VND476.8 trillion (US$21.39 billion) in the first six months of 2016 accounting for only 47 percent of the estimates of VND1,015 trillion ($45.67 billion), according to a Government's report.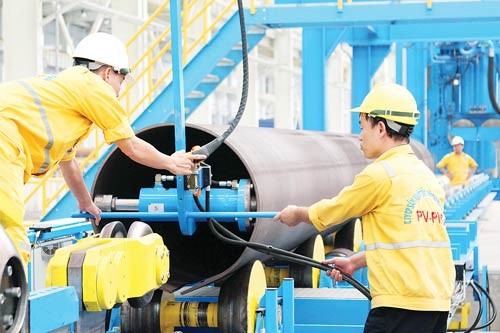 Budget revenue from oil and gas field was much lower than estimates in the first half this year (Illustrative photo: SGGP)
The revenue was a year on year increase of 6.1 percent, the lowest increase level during the same period for the last two years.
Industrial and commercial earnings from non-state sector reached 53.8 percent of estimates, foreign invested firms 49.1 percent, personal income tax 56 percent and land use fee 75.2 percent. They are all higher than the same period last year.
Because oil and gas exploitation and processing companies have still faced with difficulties, some incomings were lower than forecast. Earnings from state own firms' accounted for only 37 percent of estimates.
Revenue from Dung Quat Refinery and PetrolVietnam Gas Joint Stock Corporation reached 36.4 percent and 19.1 percent of estimates respectively, down 60 percent equivalent to VND9.3 trillion ($417 million) and VND 75 percent equivalent to VND1.4 trillion ($63 million) over a year before.
Ca Mau Gas-Power-Fertilizer Complex brought only 30 percent of estimates, reducing VND280 billion ($12.56 million).
Crude oil income was expected to reach VND20.3 trillion ($910 million), making up 37.2 percent of estimates and down 44.8 percent over the first half of 2015.
In general, budget revenue in 2016 is possible to exceed estimates as per the National Assembly's target. Of these, local revenue might be satisfactory but central budget collection must drastically strive to get the target.