The completion of Can Tho International Airport is an urgent task and will hopefully be done in time for the airport to open in 2008, the vice chairman of the Steering Board for the Southwestern Region said yesterday.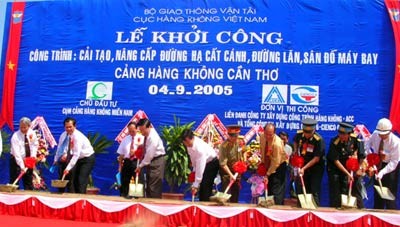 The breakingground ceremony of the airport
Huynh Phong Tranh, who is also a member of the Party Central Committee, was speaking at a meeting with the airport's board of management while on a trip to inspect the roads being built for the airport in the heart of the Mekong Delta.
The management board anticipates finishing the VND370-billion first stage by December 2007.
That mainly involves building a 2,400-meter runway of 45 meters in width and a 217-meter taxiway of 23 meters in width.
Construction of the passenger terminal, which has a budget of VND527.7 billion, is scheduled to begin in the second quarter of 2007 and be completed in 2009.
The project's engineers have already finished their designs for the terminal.