A team was formed on Friday to further inspect an illegal construction in downtown Ho Chi Minh City after it was found to be violating building codes. The building knocked down an adjacent research institute several days ago, as the building itself collapsed.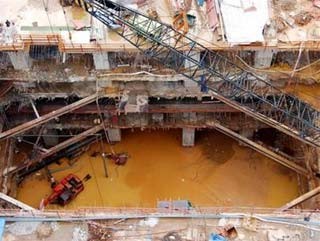 The basement of Pacific Tower
The team is comprised of senior officials from the city's Department of Construction, Labor, the Police Force, and Local Government.  A comprehensive inspection is now underway to inspect the ruins of the collapsed Pacific Tower in District 1. The building had three basements more than permitted in the license issued for the site.
As workers were digging deep to reinforce the illegal basements on Wednesday, a gaping fissure appeared.  The instability caused the whole building to collapse, taking the adjacent three-storey Institute of Social Sciences for Southern Viet Nam with it.  Luckily, no one was hurt in the incident. The institute had previously sued the Pacific high-rise for creating cracks in the walls of their building.
Inspectors yesterday proposed that the institute's remaining structure be demolished and the Pacific constructor fined for its misconduct.
Nguyen Van Hiep, deputy director of the Construction Department said his agency had found out about the unauthorized basements last year.  As a result, the agency had instructed the commissioner of the Thai Binh Beer Company, to halt further construction. Theses instructions were ignored.
Ngo Duy Tan, the beer firm's director, admitted the mistake in not seeking government approval for the basements.  He said he had contracted them to a state company under the Ministry of Construction.
Inspectors are to work with Tan and others today.