Since the first year after reunification, developing the Spratly Islands was a determined mission of both army engineers and the naval forces to create the Islands as a strong base.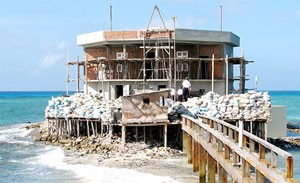 A work put up by the soldiers of Army engineer regiment 83
Lieutenant Colonel Le Nhat Cat, former commander of Army engineer regiment 83 stated that army engineers were seriously worried about imminent missions since the first ships left for the Spratly Islands, as poor facilities and hostile weather conditions on the islands made it difficult to transport provisions.
The first ships to Spratly Islands also carried freshwater, canvas tents and lots of building material.
Most of the structures like warehouses and army medical centers were carried out on site, except fortification 3C15. Despite the painstaking tasks, army engineers were poorly supplied with food, drinks and especially building material because of limited support from the mainland. 
Soldiers whiled away their free time finding solutions to construction problems as supplies took a long time to reach them. Although they lacked construction training, they managed to come up with plenty of creative ideas.
They tried some ingenious experiments to find ways to prevent ships from going aground or overturning on the coral reef. They were successful in erecting safe buildings when gusts of sand crashed houses caused by winds raging on the islands.  
The naval officers like their army counterparts also contributed substantially to developing the Spratly Islands.
In the 1980s, headmaster Tran Doan Oanh, instructors and many students, including freshmen from the Technical Navy Commander School, now called Navy Academy, were eager to participate in transporting material to Spratly Islands. Although many had no nautical experience, they still managed to overcome all the difficulties involved.   
According to Colonel Nguyen Duc Suyen, on March 22 1988, all the students of H30A and H30B classes stayed on board the Song Thu ship which brought rock to the Islands. On their way, they encountered many problems like seasickness, food poisoning and bad weather.
When unloading the material, their crane broke down and they had to unload manually. The soldiers also slept on the Island, rowing their canoe ashore to keep it from drifting in a storm. Finally the job was completed within 20 days. 
As Senior Lieutenant Colonel Dang Van Quang, a student of the technical school at that time, said unloading was a miserable task and a single mistake like dropping a rock could have caused a shipwreck and all the material and crew could have drifted away. The crew was all advised to jump overboard in case the ship overturned.
However hard they tried, not all the missions were accomplished. The Technical Navy Commander School was assigned to support Tan Binh 2 ship for material transport to Ladd Reef in the rainy season.
Due to harsh weather conditions, the ship was unable to anchor and transport the material to Ladd Reef. The men returned deeply depressed having failed to accomplish their mission.