Decision No. 112/2005/QD-TTg dated May 18, 2005 by the PM approved the Project on building a studying society in the 2005-2010 period. A conference on implementing the Decision was hosted by the Ministry of Education and Training in Ha Noi on March 30, 2006.
Building a studying society in association with socio-economic development was the main subject for discussion at the conference.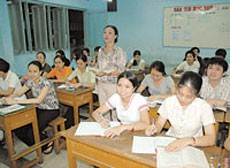 Many people attend supplementary education classes at the Continuing Education Center of District 1.
One of the basic features of the project is building the whole country as a studying society, creating convenient conditions and opportunities for people at any age, any level of education to study frequently, continuously, all their lives anywhere and anytime. Collective strength of the whole society will be mobilized to build and develop education.
Everyone, every organization has responsibilities and duties in study and participation in building a studying society.
The project's targets are increasing results of illiteracy elimination; trying to increase the rate of literacy to 98% from 94% in 2000 among people 15 years of age up; speeding up illiteracy elimination in ethnic minorities; striving to have over 80% of authorities in communes and wards educated and trained to improve professional level, update professional knowledge, political training, informatics and foreign languages.
Untill now, the Ministry of Education and Training has cooperated with the Viet Nam Study Encouragement Society to guide the building and developing of community study centers nationwide. Therefore, there are now nearly 6,000 centers in the whole country, up from 15 in 1999. Especially, the centers organized diversified classes of special subjects in 2004-2005, which attracted more than four million learners.
Related Link:
Viet Nam Study Encouragement Society