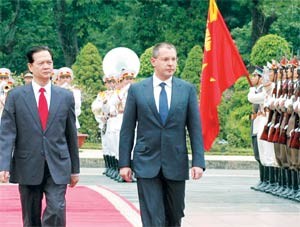 Prime Minister Nguyen Tan Dung (L) and his Bulgarian couterpart Sergey Dmitrievich Stanishev at the welcoming ceremony.
The Prime Minister of the Republic of Bulgaria, Sergey Dmitrievich Stanishev, was given a warm welcome to Viet Nam when he arrived in Ha Noi on Thursday for an official three-day visit.
He came at the invitation extended to him by his Vietnamese counterpart, PM Nguyen Tan Dung.
Vietnamese Prime Minister Nguyen Tan Dung praised the visit to Viet Nam by Bulgarian PM Sergey Dmitrievich Stanishev, saying that it will contribute to strengthening the friendship and cooperation between the two nations.
According to PM Dung, Viet Nam and Bulgaria are each currently presented with favorable economic conditions, and the two nations should embrace a cooperative attitude within the frameworks of ASEM, ASEAN-EU to improve their countries financial outlooks. With Viet Nam recently being approved as the 150th WTO member and Bulgaria becoming a member of the EU on January 1, 2007, both leaders can see the potential benefits of cooperation. 
The Bulgarian PM congratulated Viet Nam for its' outstanding achievements during the governmental renewal process, their successful admission into the WTO, and effectively organizing the 14th APEC Economic Leader's Meeting.
The two prime ministers agreed that Viet Nam and Bulgaria must develop stronger ties in which to foster the two countries' bilateral trade relations, which are currently at a modest level. According to the Bulgarian PM, the two countries need more open political dialogues, economic cooperation, and must work to share vital scientific, technological, and educational information.
While information sharing may be on the horizon, the current agenda focused mainly in the economic sphere. The PM's agreed to use their resources to promote and diversify economic and commercial collaboration, boost bilateral investments, and work to establish joint-venture enterprises between the two countries. Four "good faith" agreements dealing with economic issues such as tourism and health were signed, aimed at increasing the bilateral trade value between the countries to US $100 million by 2010.
Also on the same day, PM Sergey Dmitrievich Stanishev paid a visit to the General Secretary of the Communist Party of Viet Nam, Nong Duc Manh, State President Nguyen Minh Triet, and met with Chairman of the National Assembly of Viet Nam, Nguyen Phu Trong. He again affirmed his support of Viet Nam as an important partner on the world stage, including an endorsement of Viet Nam's run for election as a non-permanent member of UN Security Council for the 2008 – 2009 term, and reiterated that mutual understand and cooperation between the governments and their parliaments was essential.
The Bulgarian PM also spent part of his day attending the Viet Nam-Bulgaria Business Forum in Ha Noi. While addressing the forum the PM acknowledged that the levels of trade and investment between the countries has potential that needs to be realized in the near future to meet the growing economic demands of each nation.