Since the beginning of Lunar New Year, fishermen in the central region are a very happy lot because of bumper hauls, prompting them to go more often out to sea.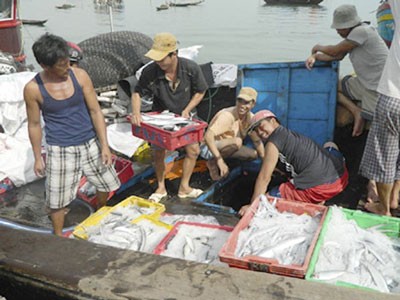 Fishermen in Thua Thien-Hue Province yield a bumper crop (Photo: SGGP)
The tanned and happy faces of the fishermen show there keenness to go out to sea and bring back huge hauls of fish and shrimps to Thuan An Harbor in Phu Vang District of Thua Thien-Hue Province.
Fisherman Cao Van Loi said that he and six others sailed out to sea on the second day of the lunar year and brought back more than ten tons of fish in just one week, raking in VND60 million (US$2,880) in net profits. Several fishermen believe it to be a good sign for a profitable year.
Nguyen Van Ty, a fisherman from Dong Hoi City in Quang Binh Province, is very excited with heavy hauls of tiny shrimps in the last one month.
Hundreds of boats depart every night and return with five to seven quintals of tiny shrimps each, with one boat of two to three fishermen earning VND7-8 million a night.
Ty said that the bumper crop brought about a very happy Tet for all of them. The shrimp season usually lasts three months, in which fishermen can haul several quintals of fish.
The An Hai Fisheries Trade Union on Ly Son Island in Quang Ngai Province hosted a send off ceremony for fishermen at the beginning of the year.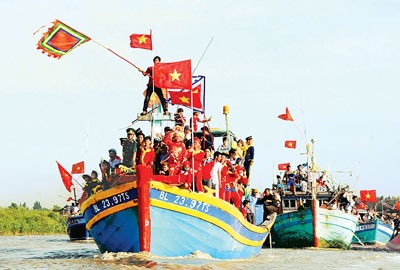 Fishermen organized the Nghinh Ong Festival in Bac Lieu Province on February 18 (Photo: SGGP)
Last year, members of the union harvested more than 16,000 tons of seafood worth VND150 billion ($7.2 million). The average income of a fisherman reached VND50-70 million. The good fishing season prompted 58 boats to sail out to sea decorated with the national flag and slogans.
Tens of boats have begun fishing trips from Tinh Hoa Port in Son Tinh District.
Le Van Nguyen, a fisherman from Pho Thanh Commune in Duc Pho District, said the bumper crop last year has prompted them to go out to sea one week sooner this year.
According to local authorities in Binh Son, Duc Pho and Son Tinh District, the weather has been favorable since the beginning of the year. As a result, local fishing boats have taken advantage of this to begin fishing trips sooner than in previous years.
In related news, fishermen in Hoa Binh District in the Mekong Delta province of Bac Lieu organized the Nghinh Ong Festival on February 18.
This is the second year of the festival, to pray for a good fishing season, and this year it attracted several visitors from Bac Lieu and other neighbouring provinces.