While the kumquat harvest has been a bumper crop, the yellow apricot blossoms have fared poorly after the prolonged cold weather in the central region.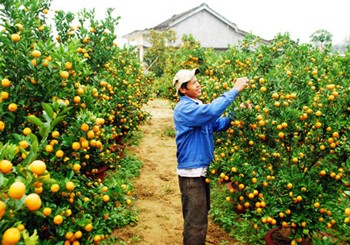 Kumquat growers are harvesting a bumper crop in the central region (Photo: SGGP)
Hoi An town in Quang Nam Province is the flower granary of the central region. Traders usually flock here to buy yellow apricot flowers beginning of each 12th lunar month. This year however, the market has been gloomy.
Tran Cong Thoi, a veteran grower of yellow apricot blossom trees in Tan An Commune, said that consistent cold weather had prevented buds from blossoming, and farmers now are facing a complete loss.
Similarly, people in Hoa An Commune of Cam Le District in Da Nang City are anxious because their apricot trees have not blossomed.
Grower Tran Ngoc Anh from the commune said that last year they had suffered losses due to the bitter weather. This year the cold weather prolonged since November, destroying all efforts of growers as the trees did not bud in time.
Dien Hoa Commune in Phong Dien District of Thua Thien-Hue Province, which is well-known for growing yellow apricot trees, also is suffering after the cold that didn't let up. Now several families don't know how to pay back loans after they invested in the yellow apricot crop.
On the other hand, growers of the kumquat trees are a happy lot, enjoying a bumper crop and high rates. 
Traders have streamed to buy up kumquat orchards in Hoi An town, paying an average VND800,000-1,000,000 per tree, with supply not being able to match demand.
Local grower Le Trung Nghia said that as apricot trees don't blossom in time, several people have switched to buying kumquat trees for Tet, hiking the price by over 50 percent compared to last year.
Mai Thanh Hung, an official from the People's Committee of Cam Ha Ward in Hoi An town said that 40 percent of the 41,000 kumquat pots have been sold. Traders from Da Nang and Hue Cities and Quang Ngai and Binh Dinh Provinces have flocked to buy the plants.