Bus and ferry stations in many parts of the country were overrun January 3 by people returning to Hanoi and Ho Chi Minh City after a three-day New Year holiday.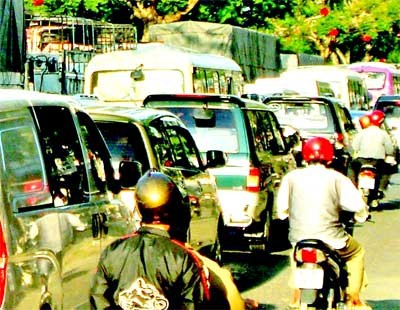 Traffic jam outside the Can Tho ferry station on January 3 as people returned to work from their hometowns after a three-day New Year holiday (Photo: SGGP)
Thousands of people returned to work to the cities from provinces, causing traffic jams at roads leading to bus stations and the Can Tho city ferry station.

At HCMC's eastern and western bus stations, taxies queued up to drop passengers as buses kept arriving at bewildering frequency.

Hundreds of vehicles queued up from afternoon until evening on Tran Phu Street leading to the Can Tho ferry station.

At around 6pm, though the traffic was cleared, vehicles remained lined up for a kilometer outside the station.

Phan Quang Du, director of the Hau Giang Ferry Station, said 12 ferries with capacities of 100 to 200 tons had to be deployed to lift the blockade outside.

Roads leading to Hanoi bus stations also saw traffic pile up. At around 6 pm thousands of vehicles were stuck on the streets.

The entrances to the city remained blocked by vehicles even at around 8 pm.