A passenger bus overturned and dragged on over a 50m stretch on 1A Highway killing four people and injuring 39 others in the central province of Ninh Thuan at 1am this morning.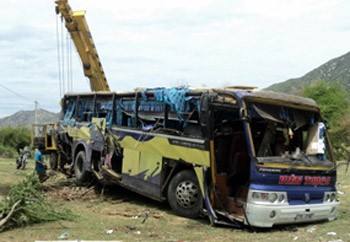 A crane lifts the overturned bus in Ninh Thuan Province (Photo: Tuoi Tre)
The bus was traveling from the north to Ca Na Commune in Thuan Nam District when the accident happened. It was raining and the bus skidded as it swerved on a turn.
Soon after the accident, the district police mobilized rescue forces to take the victims to the General Hospital in Ninh Thuan Province.
The provincial People's Committee has compensated the relatives of the dead with VND1million each and VND500, 000 each to the injured.