Every year ahead of the Tet festive season, markets and villages begin preparing traditional food items and a variety of specialties of various regions of the country to meet the huge consumer demand.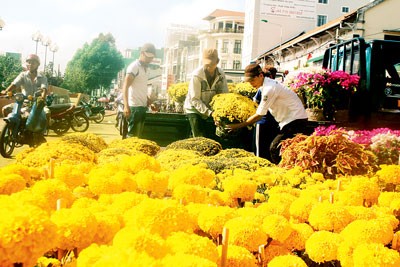 Ornamental flowers flood Can Tho City ahead of Tet festive season (Photo: SGGP)
This frenzy to complete orders before Tet can also be seen in Lai Vung Village in the Mekong Delta province of Dong Thap--famous for fermented pork rolls. Nguyen Thanh Tho, owner of Giao Tho Company in Tan Thanh Commune, said the village makes these pork rolls all year round but the Tet festive season is always peak time.
Duong Tien Hai, owner of Tien Hai Company in Duyen Hai District in the Mekong Delta province of Tra Vinh is also busy preparing dried sea food.
As the Tet holiday season approaches closer, the company pushed for increased production to meet the huge demand.
Price of first class dried shrimp is around VND1.2 million ($57.6) a kilogram and dried shrimp soaked with seasoning is VND600,000 a kilogram, an average increase of 10-30 percent compared to the same period last year. This year, the company plans to sell around 10 tons of a variety of dried sea foods to markets.
According to the Department of Industry and Trade in the Mekong Delta, the demand for traditional and well-known brands will increase, but the government must control prices and ensure food safety and hygiene.
Ta Van Hoi, party secretary of Lai Vung District, said after Lai Vung fermented pork rolls became one of Vietnam's specialties, markets have increased orders. Hence, quality and food safety is top priority. Small units are being asked to supplement production for big businesses and therefore quality needs to be monitored.
Tran Quoc Tuan, deputy director of the Department of Industry and Trade in Tra Vinh Province said all companies in the province expanded their production when the market became more robust. Besides, quality of products has improved thanks to advanced modern technology and better machinery.
Related agencies are tightening control of prices and checking on low quality products released during Tet. Phan Loi, head of the Department of Market Management in An Giang Province, said 12 inspection teams will be set up to check food safety and hygiene conditions before and after Tet Festival.