Private enterprises have succeeded with their agricultural investments, but their progress still lags behind their true potential and the demand for development in the sector, a conference was told in Ha Noi yesterday.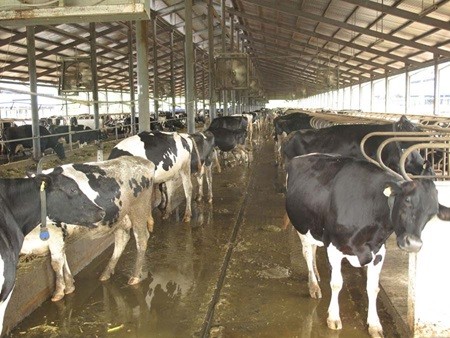 Minister of Agriculture and Rural Development Cao Duc Phat said that investments by private businesses in the area had increased by 1.9 times from 2009-13. (Photo: VNS)
Minister of Agriculture and Rural Development Cao Duc Phat said that investments by private businesses in the area had increased by 1.9 times from 2009-13.
The number of companies investing in agriculture rose from around 2,400 in 2007 to 3,635 in 2013, an average growth rate of 13.8 per cent per year. Private firms accounted for nearly 90 per cent of the figure, creating jobs for some 265,000 workers.
Companies such as Vinamilk, TH Truemilk, Minh Phu Seafood and property developer Hoang Anh Gia Lai have become locomotives driving high-tech application and market expansion in the agricultural sector in many localities.
Real estate giant Vingroup, major telecommunications service provider Viettel and multi-sector business group FLC have also expressed intentions to invest in the field.
The Government has issued specific resolutions last year and this year to speed up the improvement of the agricultural business environment.
The Ministry of Agriculture and Rural Development (MARD) has also established a working group with the participation of its management agencies and 30 key enterprises to attract agricultural investments.
Phat said investments in agriculture remained limited and unstable. In 2014, only about 1 per cent of nationwide businesses dealt in the sector, and more than half of this minority had equity of less than VND5 billion (US$238,100).
At yesterday's meeting, representatives of the World Bank and many companies said that better conditions related to land, infrastructure, taxes and fees, as well as investment promotions and technological development should be in place in order to attract more interest in agriculture.
Deputy Prime Minister Hoang Trung Hai said that the country will enter a variety of free trade agreements, so challenges had become greater for agricultural development.
He said land issues, especially site clearance, was the biggest obstacle facing companies, and ministries and sectors would have to scrutinise them for appropriate settlements in the coming months.
He suggested enterprises should prioritise forming links with farmers instead of asking for land grants, since the growing Vietnamese population had left the per-capita area of land for production small.
Hai said the Government would focus its investments on agricultural infrastructure, including irrigational works and rural traffic, urging the MARD-led working group to concentrate on developing advantageous lines of products.
He added that enterprises were also being encouraged to either team up or foster public-private partnerships.
The Deputy PM also urged agro-businesses to produce more quality products and pay more attention to the interests of the community in order to gain consumer confidence.
"The Government will continue to trim administrative procedures and show enterprises that we are serious about helping them to industrialise and mordernise agriculture and rural areas," he noted.
Last Thursday, an inter-ministerial meeting heard that relevant ministries would have to work closely to boost exports, especially for agricultural produce, as an agricultural growth slump would pose the greatest challenge to the country's economic growth.
Minister of Planning and Investment Bui Quang Vinh reported that the agricultural industry grew by only 2.17 per cent during the first half of this year, while the sector last year accounted for 3.44 per cent of the country's gross domestic product growth.
He attributed the slump to droughts in the central region and struggling seafood exports, which had significant impacts on agricultural production and exports.