The National Assembly entered its third working week with in-depth discussions on the Anti-corruption Law and many others.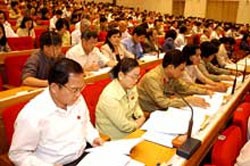 The National Assemby has lots to do this week (Photo: VietnamNet)

Legislators will also debate law-related issues such as dealing with the public's complaints and denunciations, anti-criminal work and law enforcement.

Among top agendas of the week ahead are a resolution on the 2007 state budget and the laws on tax management, personal income tax, goods and products' quality and judicial assistance.

The NA's External Committee is about to convene a plenary session next Friday to hear the government's preliminary report on Viet Nam's WTO accession, said head of the committee Vu Mao.

The committee will revise the documents relating to WTO entry, and a report will be made to point out the position of Viet Nam, advantages and disadvantages of WTO membership, and post-WTO issues.

When Viet Nam becomes an official WTO member, the government will have its action plan discussed by the committee.

As planned, the National Assembly will discuss and consider ratifying the State President's proposal on Viet Nam's accession to the WTO.

According to WTO regulations, 30 days after the WTO Secretariat receives the approved resolution from the Viet Nam National Assembly, Viet Nam will officially become a WTO member.