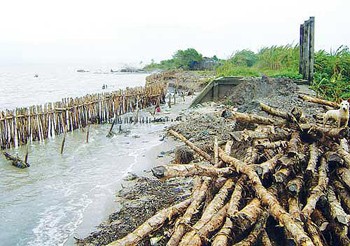 Ca Mau builds dyke to cope with the worsening landslide (Photo: Thanh Nien)
The People's Committee in the southern tip province of Ca Mau has decided to spend VND40 billion (US$1.9 million) on the construction of an embankment to protect the area from losing land that is rapidly slipping into the East Sea.
The 1.5 kilometer dyke is expected to be complete by the end of 2012 and will broaden the tip of the province by 1.5 hectares.
Soil will be filled in the dykes to merge with the mainland while the sea facing side of the dyke will be strengthened with a tooth-comb shaped fence to cope with the onslaught of high sea waves.
Related articles:
River landslide buries three houses
Constant threat of landslides in Mekong Delta
Erosion resizes area of Ca Mau Province annually