Heavy rains and high tides brought about by the south-eastern monsoons caused strong waves and floods that severely damaged the western sea dyke system in Ca Mau province, putting homes and lives at risk.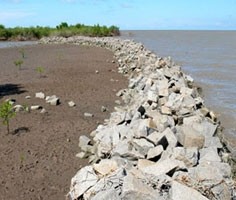 Western sea dyke in Ca Mau province (Photo: Dat Mui Newspaper)
The western sea dyke in the Mekong Delta's southernmost province runs across U Minh, Tran Van Thoi and Phu Tan districts, with a total length of more than 90 kilometers.
But parts of the dyke are "seriously broken" according to local agencies.
The provincial government and other local authorities are working to promptly reinforce the dyke to avoid floods and the massive loss of life and property that would occur if the dykes were break.