The national electric grid is expected to have more electricity from the new suppliers: 2 electricity plants in Ca Mau province, which are fuelled by gas from the Ca Mau Gas-Electricity-Urea complex.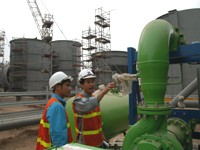 Installation of main transformer at Ca Mau Elecricity Plant I
The Management Project of Ca Mau Gas-Electricity-Urea Complex on March 19 said the project have been completed including items such as ground leveling, construction of resettlement area, transport route from Ca Mau to the complex, gas pipe line from PM3 to Ca Mau.

The pipe line is expected to start receiving gas on March 31 and officially supply gas to Ca Mau Electricity Plant I on April 7.
As scheduled, on March 24, the generator 1 (Ca Mau Electricity Plant 1) shall get access to the national grid and on March 31 the generator 2 shall do the same. From July 23, the plant shall use gas instead of Diesel Oil (DO).
Another source, Ca Mau Electricity Plant II is scheduled to be completed in December 2007 as construction works are being tested for taking over, such as areas for ground processing, foundation building, steamed generator house, heat recovering system, etc.