Sugarcane prices have fallen for the past three years, prompting farmers in the southernmost province of Ca Mau's Thoi Binh District to plant ginger, a more profitable crop.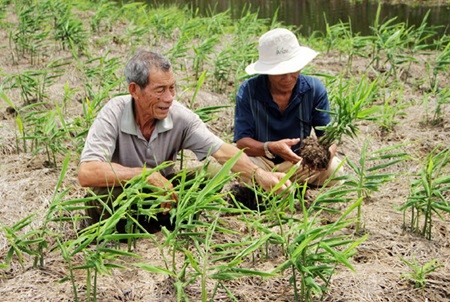 Residents from Thoi Binh District's Bach Dang Commune in the southern most province of Ca Mau grow ginger where they used to cultivate sugarcane. — VNA/VNS Photo The Anh
The mass shift from sugarcane to ginger has local authorities worried about uncertain future output.
Thoi Binh District used to be a main collection area for Thoi Binh-Ca Mau Sugar Factory which could close down due to low profits and a lack of environmental protection measures.
"In recent years the prices of sugarcane came down, while sugar factory's production has become sporadic," said Phan Chi Cong, chairman of the district's association for farmers.
"Due to the uncertain income from sugarcane, many farmers have spontaneously destroyed their sugarcane fields and started cultivating ginger."
Cong said nearly 200 hectares of ginger were being grown, mostly in Bien Bach Dong and Tri Luc communes.
"Last year the farmers had a bumper harvest of ginger," Cong said. "Some households even earned billions of dong, so others gravitated towards it."
Nguyen Trang Nghiem, chairman of Bien Bach Dong Commune's People's Committee, said the area for ginger cultivation increased from 50 hectares in 2004 to 100 hectares in 2015, while sugarcane decreased from 160 hectares last year to nearly 90 hectares now.
Farmer Pham Van Ua in Bien Bach Dong Commune's 6 La Cua Hamlet, who started growing ginger in 2011, said in March he made VND1.6 billion (US$73,400) from his two hectares of ginger, bringing him VND1 billion ($45,800) in profit.
According to Nguyen Minh Chu from 6 La Cua Hamlet, sugarcane prices have fallen to between VND500 and 800 per kilo, so many farmers would rather see their crops die than hire labourers for another profitless harvest.
"To harvest a tonne of sugarcane, farmers have to spend around VND200,000 to 500,000 ($9.10 to $23), and then they can just sell the sugarcane at VND500,000, not to mention extra expenses like pesticides and seeds," he said.
Chu cut down his sugarcane and switched to ginger. He purchased another 0.1ha of land and aims to make ($320) a year.
While farmers remain optimistic about ginger, local authorities caution the mass shift could lead to unstable prices and uncertain output.
Nguyen Van Sinh, a longtime ginger farmer, said diseases spread quickly among the roots and couldn't be stopped in the event of an outbreak.
Farmers must make relatively high investments to start growing ginger – VND30 to 40 million ($1,300 to $1,800) per 0.1 hectare – so the line between "rich" and "bankrupt" was very narrow, he said.
Short-term benefits
Su Quoc Hung, chairman of Bien Bach Dong Commune's Association for Farmers, said most farmers just saw those around them gaining short-term benefits from growing ginger and immediately got rid of their sugarcane.
"Ginger prices have been unpredictable and unstable in recent years, so we do not encourage farmers to increase their growing areas and we don't hold training courses for them," he said.
He added that the locality would warn farmers and teach them about planning their cultivation to avoid sudden losses when prices fall.