Mekong Delta province of Ca Mau has chosen to implement two project to minimize the impact of climate change and preserve biological diversity, said Pham Khoi Nguyen, Minister for Natural Resources and the Environment on September 10.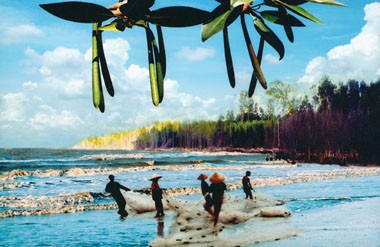 Ca Mau protective forest (Photo: Dat Mui Magazine)
Three sides of the province border the sea, which makes it vulnerable to sea-level rises due to climate change.
Climate change and sea level rises not only effect the environment and socio-economic development, it also impacts biological diversity and natural resources in the province, Mr. Nguyen said.
On the same day, the province's Center of Environmental Technology presented two projects and hydrometeorology experts from the Ministry of Natural Resources and Environment contributed their ideas to help the center understand the impacts of sea level rises, possible disasters and flood tides.
The experts also suggested building sea level and natural resource observations to collect data.
Nguyen Xuan Cuong, deputy Minister of Natural Resources and the Environment will direct the two projects in the province and has asked authorities to perfect them soon.
Mr Nguyen said he will continue to work with the Provincial People's Committee to solve difficulties to help the province better manage natural resources and the environment.