Ca Mau Province at the southernmost tip of Vietnam announced on June 15 that it would upgrade and fortify its west-sea dyke and build a 100 kilometer long east-sea dyke at an estimated cost of about VND2,000 billion (US$100 million).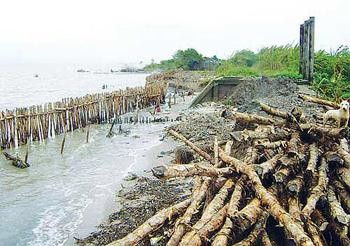 Ca Mau Province land loss is worsening (Photo: Thanh Nien)
The west-sea dyke has suffered severe damage this year because of strong winds and unusually high tides, as reported by To Quoc Nam, deputy director of the Department of Agriculture and Rural Development in the province.

The west-sea dyke, which protects Phu Tan, Tran Van Thoi and U Minh from the ravages of the sea, is still badly damaged by waves and high tides in several places even though the storm season has already begun.

One 1,500-meter section of the west-sea dyke in Khanh Tien Commune of U Minh District is eroded in more than ten places and is in danger of bursting.

Earlier, prolonged rains and strong waves destroyed a 500-metre strip of coastal forest that acted as a buffer between the west-sea dyke and the sea at Rach Dinh in Khanh Tien Commune.

With the buffer zone destroyed, waves almost broke through the 6-metre-thick dyke made of mud and timber stakes.

The east-sea dyke will be built along the Chung Ket rivulet in Dam Doi District till the Bay Hap River in Nam Can District.

Once complete, the dyke will help protect against erosion, high tides and secure families living in the area.

The east sea coast of Ca Mau loses about 100 hectares of land a year from erosion, according to the Department of Agriculture and Rural Development in the province.

In related news, tens of families living along the Thot Not River of Thot Not District in Can Tho City panicked on the morning of June 15 from landslide scare.

Huynh Cong Van, deputy chairman of Trung Nhut Ward People's Committee, said a 40-kilometer landslide occurred along Thot Not River, damaging seven houses. Tens of households in the area are at risk as well.

By the afternoon of the same day, the Thot Not District People's Committee held an urgent meeting to discuss measures to relocate households from danger zones.