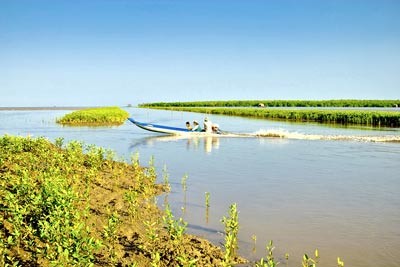 A view of a corner in the Ca Mau Cape biosphere reserve (Photo: SGGP)
UNESCO recognized the cape as a global biosphere reserve to the Mekong delta province of Ca Mau on April 25.
At the award ceremony, province leaders pledged to preserve and develop biosphere value at their most. Deputy Prime Minister Truong Vinh Trong at the meeting called for supports of home and international organizations to the province in maintaining the Ca Mau Cape biosphere reserve.
Earlier, international visitors and people have come to the U Minh Ha National Park and the Ca Mau Cape National Park where officials cast tens of million prawn breed in a bid to restore natural seafood sources and released wild animals Seafood breeds were cast into the sea and animals released into the forest as an enriching activity.
The Ca Mau Cape National Park is home to 87 animal species, including the endangered long-tailed monkey and the silver langur while the U Minh Ha National Park is home to seven reptile and three animal species listed in Vietnam's Red Book of endangered species and two reptile species and one other animal species in the international Red Book.
Vietnam's southernmost Ca Mau Cape spans over 371,000 hectares.

A seminar was held on April 25 with the participation of local and foreign scientists to discuss how to conserve biological diversity in the UNESCO-recognized biosphere reserve.