The Civil Aviation Administration of Vietnam (CAAV) August 25 explained why it refused a new flight route. It came in response to recent media coverage that a man had challenged the authority over the efficiency of the "golden air route."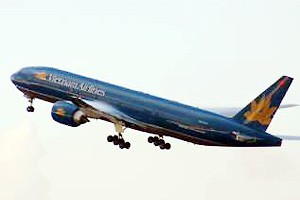 Vietnam has five airline operators. Domestic flights play an important role in economic development and national security (Photo: H.Son)
Tran Dinh Ba, a railway expert, August 8 bet US$5 million that a new Hanoi-HCMC air route would be more efficient than the agency's estimate, saying the authority would not have to pay if it loses.
According to CAAV, it had discussed the route plan before Mai Trong Tuan, author of the "golden air route" project, presented it.
However, the new flight route along the 106th meridian east will cross over prohibited areas of Hanoi, the airplane training region Tho Xuan – Thanh Hoa, and will be affected by the limited flight area around Bien Hoa – Dong Nai airport
The Hanoi-HCMC air route plays an important role in the country's domestic air system; it must therefore stay inside the country to ensure the control over flights in a bid to satisfy economic development and national security, said the authority.

Moreover, CAAV argued against the plan because the flights are not economically efficient, as each flight would cost the airline money to use neighboring countries' airspace to fly straight over Laos and Cambodia, instead of veering east over the East Sea.
Related articles:
Discussions over new Hanoi-HCM City air route

Air authority accepts new flight route plans