The government will no longer subsidize petrol prices in 2007, said Prime Minister Nguyen Tan Dung at a cabinet meeting on Thursday in Ha Noi.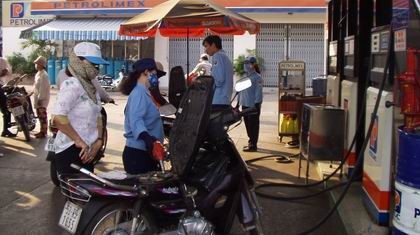 Petrol price hike is common in 2006 (Photo: VietnamNet)

Earlier, the Ministry of Finance reported on the management of commodities and services' prices in 2006 and its projections for 2007.

The report said the prices of cement, iron, steel and fertilizer will be decided by the market in 2007; while the coal price will be modified in relation to the price of power.

Rice, coffee, rubber and agricultural products' prices will be dependant on the market as well.

Goods and services ordered by the government for public use will be priced by auction.

In order to stabilize prices, the PM asked relevant ministries and agencies to further exercise control to avoid speculators and business mercenaries, especially in the markets of petrol, fertilizers and pharmaceuticals.

Some economic analysts expect the prices of electricity, coal, cement, petrol and oil will see some changes over the next year.

PM Dung also asked government members get inflation under control and keep it as low as 7 percent in the next year.

The PM and cabinet members discussed other important issues such as the lottery and gambling, especially gambling on football.

Specific instructions were given by the government leader on preparations for the country's accession to the World Trade Organization and its hosting of the 14th APEC Economic Leaders' Meeting.

He also supported the fight against corruption, social evils, and traffic accidents.

PM Dung went on to praise the socio-economic progress in healthcare, education, poverty reduction, job increases, security and foreign affairs over the past ten months. He sees these as indications that the targets introduced to the 10th National Assembly can be realistically achieved.

At the meeting, representatives from the Trade Ministry and the Ministry of Planning and Investment reported that the industrial production value for October rose 2.5 percent above September and 17.4 percent from last October.

October's export value was up 3.3 percent in comparison with September and the export revenues for the first ten months increased 24 percent over the same period last year to over 32.8 million USD.

Trade Minister Truong Dinh Tuyen briefed cabinet members on the results of negotiations for the country's WTO entry and the implementation of necessary follow-up steps.