The Vietnamese cabinet convened for its monthly meeting in Hanoi on October 26, focusing on the implementation of socio-economic development tasks in the first ten months of this year and discussing measures to achieve the country's yearly targets.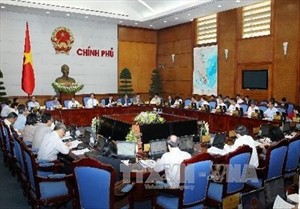 Overview at the meeting (Photo: VNA)
Cabinet members praised encouraging achievements in socio-economic development over the past 10 months thanks to the drastic measures implemented by the government.
They said the economy is on the right track to recovery, with inflation under control, interest rates cut and improvements made in industrial production.
Policies on education, job generation and social welfare and security have been ensured along with the maintaining of political security and social order.
The cabinet also pointed to shortcomings such as the economy's slow recovery, sluggish growth in credit balance and the abundance of non-performance loans.
They suggested that more effective solutions should be pursued to ease difficulties for producers and businesses, facilitating firms to access credits while focusing investment in production and other priority fields.
It was also argued that more attention should be paid to programmes on market development, trade and investment promotion and the simplification of procedures for exports at border gates.
Regarding banking operations, Governor of the State Bank of Vietnam Nguyen Van Binh assured the cabinet that very effort is being made to manage monetary policies dealing with bad debts while maintaining stable interest and exchange rates.
Ministries and localities were urged to keep a close eye on administrative reform, avoiding inconvenience to people and businesses as well as creating optimal conditions for the development of enterprises' production.
Many cabinet members suggested tighter market management in the last months of the year to prevent inappropriate price hikes, cross-border smuggling and the production and trade of fake and low-quality commodities.
At the meeting, the cabinet focused on measures to prevent natural disasters and overcome their consequences.
As many as eight out of 11 tropical storms in the East Sea this year struck Vietnam, causing losses of life and property. A total of 211 people were reported dead and missing since early this year. Total losses were estimated over 21 trillion VND (987 million USD).
To help overcome the aftermath, the Prime Minister decided to provide seedlings and breeding animals worth over 428 billion VND and 1,600 tonnes of rice to disaster-hit localities.
The localities should pour money in work for natural calamity prevention, including improving forecast capacity.
In the mean time, work must be finished on the rebuilding and repair of transport networks, infirmaries, schools and agency offices.
Concluding the meeting, Prime Minister Nguyen Tan Dung stressed the importance of obtaining a growth of 5.4 percent for this year, saying that this will create a basis for a higher growth in 2014 and the following years.
He ordered the Ministry of Finance and localities to pay attention to budget collection and spending, ensuring the budget balance.
Furthermore, he urged relevant ministries and agencies to fulfill the two last UN Millennium Development Goals ensuring clean water and fighting HIV/AIDS by 2015.
Ministries, agencies and localities were asked to increase the flow of timely and accurate information given to media in order to create a social consensus and successfully implement the set targets and tasks.