The Government discusses the impacts of Vietnam's entry into the World Trade Organization, the effects of key economic policies since, and the efficacy of the emergency measures taken to prevent a recession at a monthly cabinet meeting on May 4-5.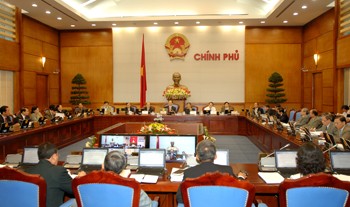 Last month's cabinet meeting, with Prime Minister Nguyen Tan Dung sitting below the bust of Ho Chi Minh
The Cabinet will also discuss a draft decree to replace a decree on assisting small and medium-sized enterprises, the Postal Law and the socioeconomic performance in the first four months and forecast the local and global economic situation.
The Ministry of Planning and Investment's National Center for Socioeconomic Information and Forecast has made an optimistic forecast for the second quarter.
It said output of many key items like computers, footwear, seafood, and garments increased in April.
Agricultural output rose faster than in the previous three months. The output of liquefied gas rose by 33 percent, detergent by 26 percent, cruel oil by 21.9 percent, garments by 11.1 percent, and chemicals and fertilizers by 10.6 percent.
These increases prove effectiveness of the Government's timing polices to help enterprises, the center said.

The second quarter's economic growth is expected to reach 3.5-3.8 percent, up from 3.1 percent in the first.