Prime Minister Nguyen Tan Dung chaired the Government's regular meeting in Hanoi on April 25 to discuss socio-economic performance in the month and the first four months of 2015.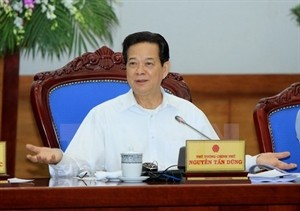 Prime Minister Nguyen Tan Dung speaks at the meeting (Source: VNA)
Cabinet members agreed that Vietnam has recorded positive changes in socio-economic development during January-April.
They exchanged views on measures to accelerate agricultural production, expand consumption market, speed up economic restructuring, increase the application of science and technology in business and manufacturing, and foster administrative reform.
The adjustment of vaccine prices, how to increase the national competitiveness, and measures to promote tourism, increase the quality of services, and address bottle-necks in visa granting to foreign tourists to Vietnam were also on the agenda.
Minister of Agriculture and Rural Development Cao Duc Phat said that the two biggest challenges facing the sector are drought and market.
The ministry has actively carried out measures to cope with impact caused by drought. It also wants to work closely with relevant ministries and offices to expand export market for Vietnam's main products such as rice, coffee, rubber, pepper and fruits.
Governor of the State Bank Nguyen Van Binh affirmed that the central bank will continue flexible monetary policy management, keep the foreign currency market stable and prioritise credits for agriculture and rural development.
Addressing the meeting, PM Nguyen Tan Dung stressed the need for the synchronous implementation of tasks and measures in order to achieve set targets.
Priority should be given to dealing with difficulties in production and business in the fields of agriculture, industry and services, he stated.
He assigned the Ministry of Industry and Trade to seek any possible ways to boost trade promotion, expand export market, well control import activities and ensure domestic production in accordance with international practices and commitments.
Regarding tourism, the Government leader asked for a report reviewing the implementation of the Government's resolution on tourism development in the next meeting.
He also stressed the importance of inflation control and economic restructuring, with the focus on the equitisation of State-owned enterprises.
The ministries, sectors and localities were requested to speed up administrative reform, especially in administrative procedures, in order to improve the business and investment climate, while effectively implementing measures to ensure social welfare and gain sustainable poverty reduction, particularly in extremely disadvantageous areas and those prone to disasters.
The PM emphasised the need to continuously strengthen security and defence, maintain political security and social order and safety, and actively combat all kinds of crime to ensure a peaceful life for people.
He also highlighted the importance of information sharing on socio-economic affairs between the ministries and localities and press agencies to create a concurrence among the society.