Cam Ranh City authorities on Monday met to clarify and discuss solutions to put an end to illegal fish farms being run by some Chinese for the last decade at Cam Ranh Bay in the central province of Khanh Hoa.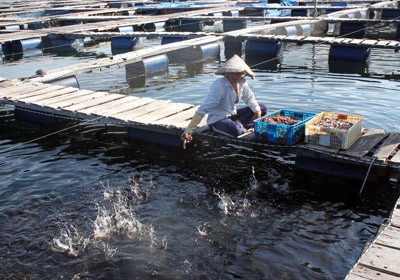 A Chinese man breeding fish illegally in Cam Ranh Bay
Some Chinese people have been openly breeding fish at Cam Ranh Bay for the last ten years; however local authorities had absolutely no knowledge of this.
Dao Van Hoa, chairman of the People's Committee of Cam Ranh City admitted that there were plenty of loopholes in the management, which these Chinese people had taken advantage of for more than a decade.
"The main responsibility in this case should be with Cam Ranh City authorities including me," said Mr. Hoa.
The Cam Ranh City authorities will now prepare a report on this case to present to the People's Committee of Khanh Hoa Province by June 8 and await further instructions, he added.
Chinese people have not only run illegal fish farms at the bay, but have also come and gone freely in and out of the Cam Ranh Port, which has a border army post, the port authority's office and the customs division. However, now they only resort to blaming each other. 
According to authorised organisations in Khanh Hoa Province, there are nearly 20 Chinese people who are using the Bay area to breed seafood illegally, mainly in Cam Ranh and Van Phong Bay.
Recently, Cam Ranh City had proposed to the provincial Police Department to issue a stiff fine on five of the Chinese people who were illegally breeding fish in Cam Ranh Bay and also drive them out of the locality.