Traditional relations, comprehensive cooperation and good neighbourliness topped all meetings between Cambodian top leaders and Vietnam's Prime Minister Nguyen Tan Dung in Phnom Penh on November 15.
Dung was warmly welcomed by King Norodom Sihamoni on his official visit to Cambodia, who emphasised that " Cambodia has been lucky to have such a good friend like Vietnam".

The King expressed aspiration to gear bilateral relations to a new dimension in the interest of the two countries' prosperity.

He concluded by asking the Vietnamese Government leader to convey best regards from his father Norodom Sihanouk to Secretary General of the Communist Party of Vietnam Nong Duc Manh, State President Nguyen Minh Triet and other leaders of Vietnam.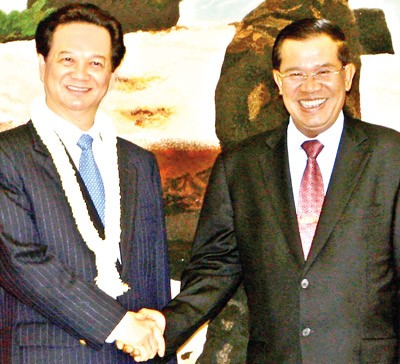 Prime Minister Hun Sen of Cambodia (R) and VN Prime Minister Nguyen Tan Dung
In his meeting with Senate President Chea Sim, Dung highlighted traditional relations between the two countries. He emphasised that in the current context, efforts to strengthen solidarity, traditional friendship and comprehensive cooperation between the two countries play an important role in the development cause of each and every nation as well as contribute to peace, stability, cooperation and development in Southeast Asia and the world as a whole.

His view was shared by the Cambodian Senate leader, who congratulated Vietnam for their achievements, saying he considered them as Cambodia's own.

Chea Sim also valued cooperation between the two countries' border provinces, saying the two Governments should speed up the border demarcation and border marker planting to meet the deadline in 2012.

"The Cambodian people engrave in their hearts the sacrifice of lives and blood by Vietnamese volunteers in their noble international mission during Cambodia's struggle against the genocidal regime as well as in their national reconstruction and development," Chea Sim concluded.

In the other meeting with National Assembly President Heng Samrin of Cambodia, Dung expressed satisfaction at the recent fine development of legislative bodies' relations as shown in their mutual support in regional and international forums.

The Vietnamese leader thanked the Cambodian National Assembly and its President personally for strongly backing Vietnam in its capacity as President of the ASEAN Inter-Parliamentary Assembly (AIPA)-2010.

For his part, Heng Samrin praised Vietnam for successfully calling the AIPA-2010 meeting and the 17th ASEAN Summit. He emphasised that Vietnam's image has been constantly improving in the regional and international arenas.

In the afternoon of the day, Prime Minister Dung paid floral tributes to Cambodian fallen soldiers at the Monument of Independence and Vietnamese martyrs at the Monument of Vietnamese Volunteers . He visited the Phnom Penh office of the Bank for Investment and Development of Cambodia, a joint-venture with Vietnam, and the Vietnamese Embassy.