Chairman of the Cambodian National Assembly (NA) Heng Samrin wrapped up his two-day visit to Vietnam on January 5.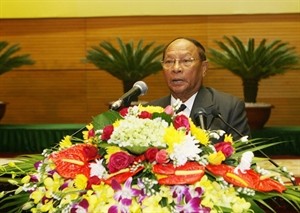 Chairman of the Cambodian National Assembly Heng Samrin. Photo: VNA
While in the country, the Cambodian legislative leader attended a ceremony to mark the 35th anniversary of the victory of the southwest border defence war and the joint victory of Vietnam and Cambodia over the Khmer Rouge genocidal regime.
He was welcomed by his Vietnamese counterpart Nguyen Sinh Hung and held courtesy meetings with Party General Secretary Nguyen Phu Trong and President Truong Tan Sang.
At the meetings, Chairman Heng Samrin recalled the days when the two countries stood shoulder by shoulder in the fight against the Khmer Rouge and gained victory over the most brutal genocidal regime in the history of mankind.
He underscored the great sacrifice by Vietnamese volunteer soldiers for independence and freedom of the Cambodian people and expressed gratitude to the Vietnamese Party, State and people for saving his country from the genocidal disaster and helping it in national restoration and reconstruction.
The leaders agreed that both Cambodia and Vietnam will hold a ceremony on January 7 every year to pay tribute to Vietnamese and Cambodian fallen combatants who sacrificed their life for independence and freedom of each country as well as the common destiny of both nations.
He held that pure solidarity between the two countries will forever be remembered in the history of both countries and can be erased by any forces.
The two sides affirmed that Vietnam always attaches importance and gives top priority to bolstering the good neighbourliness, long-standing amity and long-term comprehensive links with Cambodia, considering it as a common invaluable asset that should be preserved and passed on to younger generations.
NA Chairman Heng Samrin, who is also President of the National Council of the Solidarity Front for the Development of the Cambodian Motherland met with representatives from the Vietnam-Cambodia Friendship Association.-VNA