ceremony was held in the southern province of Dong Nai's Cam My District yesterday to inaugurate the site of the Cambodian resistance movement's foundation in Viet Nam.
Both Vietnamese Prime Minister Nguyen Tan Dung and his Cambodian counterpart Hun Sen were at the event.
The site in Long Giao Commune marks where Hun Sen formed and led Fighting Unit 125, a precursor of Kampuchean United Front for National Salvation, on May 12, 1978.
The unit's establishment was a starting point for the Cambodian people to abolish the genocidal regime and revive the country.
The site holds the remains of 49 fallen Cambodian combatants who lost their lives during the fight against the Pol Pot regime. It has been maintained for the past 33 years and opened when the two countries celebrated the victory against the Khmer Rouge regime on January 7, 1979.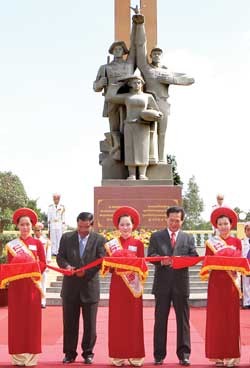 PM Nguyen Tan Dung (right) and his Cambodian counterpart Hun Sen cut the inauguration band in Dong Nai Province at the monument to the Cambodian resistance against the Khmer Rouge yesterday
Speaking at the event, Dung said the victory was of momentous significance and closed a heart-rending chapter in history while ushering in a new period of co-operation between the two countries.
He also said that over the past 33 years, Viet Nam and Cambodia had made several achievements in national construction and development, and that their traditional ties kept growing.
In his speech, Hun Sen said that the genocidal regime that began on April 17, 1975 had driven numerous Cambodian people to be starved, overworked or executed.
The Khmer liberation front had no other choice than fighting the Pol Pot regime with the support of Viet Nam. The united front for national salvation was officially set up then.
"This is an unforgettable piece of history to remind future generations of the accounts in both Cambodia and Viet Nam," he said.
He also thanked the Vietnamese Party, Government, army and people for the site's construction.
Also yesterday, the Ministry of Culture, Sports and Tourism handed the locality a certificate to recognise the newly-built memorial as national historical site.