The Road and Railway Traffic Police Department (C67) under the Ministry of Public Security yesterday operated traffic surveillance camera systems in the National Highway 1A through the Southern Province of Dong Nai.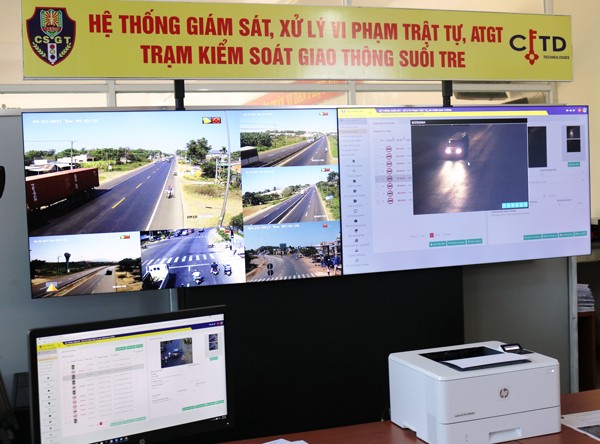 Cameras are connected with computers in police stations in provinces and districts (Photo: SGGP)
This is one of measures to raise people's awareness of traffic regulation on driving in streets, helping deal with traffic violations in time to reduce accidents.
The system includes modern specific and automated cameras to verify the license – plate and to analyse lines installed in the National Highway. These cameras are connected to main machines and data storage in traffic police stations in province, districts and communes. 
Through the system, traffic police officer will detect violations especially faults leading to accidents such as driving fast in the wrong lanes, wrong parking, contrary direction, and passing red light...The system is expected to support traffic police in probing cause of serious accidents.
According to Major General Nguyen Quoc Diep, deputy head of C67, the 102km complicated traffic National Highway through Dong Nai with nearly 5,000 cars and 120,000 motorbikes travelling a day is an accident prone zone; accordingly  the new system is considered an effective measures to reduce accidents.
Next time, C67 and related agencies will install more monitoring systems in hot spots of accidents  in the National Highway through Ho Chi Minh City, the central provinces of Phu Yen, Binh Thuan and the Mekong delta province of Tien Giang.