The national traffic police agency has said surveillance cameras will be installed by the end of this year in many cities and provinces to check violations of traffic laws, and is trying to attract investors who will install and maintain them.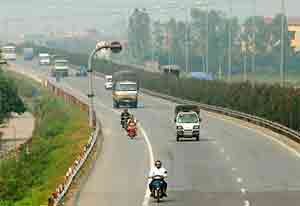 The section of Highway 1 where surveillance cameras are installed to check violations of traffic laws
A two-month pilot project, during which cameras were installed in the sections of Highway 1 – that runs through Thuong Tin District of Ha Tay Province -- to detect violators, has shown encouraging results and the police now intend to expand the project to Highways 1a, 5, and 51 by December.

Investors will be asked to install and operate the cameras and send information about violators to the police for which they will be paid.

Deputy Prime Minister Hoang Trung Hai hailed the Department of Road and Railway Police and Hai Chau Group for taking the initiative.

To mobilize local and foreign investors, he asked the Ministries of Police, Planning and Investment, and Finance to draw up incentives.

The pilot surveillance project turned up 1,709 violations -- 990 by buses, 537 by cars, 168 by trucks, and 17 by motorcyclists. They were fined VND788 million (US$47,500).