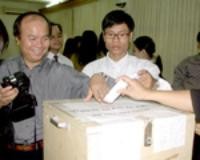 Fund for the poor
The campaign started five years ago (on October 17, 2000) with the establishment of the Fund for the Poor. After five years' implementation, the total money of this fund reached VND1,300 billion in which Ho Chi Minh City contributed VND182.701 billion.
The money has been used to assist provinces and cities to build and restore houses for poor people. Up to now, 255,000 new houses have been built and 88,000 houses have been restored.

The Vietnamese people and international community said that Viet Nam may be the unique country where such activity is held. The spirit of mutual assistance in the Vietnamese community is a symbol of national solidarity, which was always appreciated by the great leader – former President Ho Chi Minh.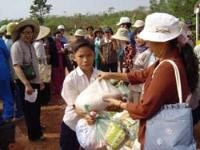 Food for the poor
Nowadays, the campaign bears greater significance with the support of all the people and Party leaders. It has contributed actively to the cause of poverty alleviation and national building as pointed out in various resolutions of the Vietnam Communist Party.

Live TV program for the poor
On the last day of the year 2005 (December 31, 2005), the Vietnam Television (VTV) in conjunction with the Vietnamese Fatherland Front and the Military Telecom Corporation (Viettel) organized a live TV program called "Noi Vong Tay Lon" (Welcome the poor with open arms) which started at seven a.m and lasted until eleven p.m on VTV3 channel.
The program concluded nation-wide activities and movement for the poor over the past five years, praising provinces and cities with good achievements in poverty reduction, honoring individuals and organizations with their great contributions to the Fund for the Poor.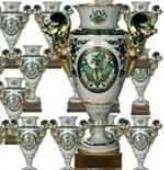 The ceramic cup named Viet Dragon
It also aimed at organizing new activities such as "A working day for the poor", "A meal for poor children"… as well as offering scholarships to poor pupils and students.

A public sale was held with the participation of individuals, organizations and businesses who wished to help the poor by donating large sums to the fund. In particular, a 2.5 ton hammock made by the Duy Loi Company, which is capable of carrying 40 people, was auctioned at 310 million VND and a ceramic cup inlayed with gold named "Viet Dragon" made by the Minh Long Porcelain Company was sold at VND930 million at the program.
After this TV program, VND8.172 billion was raised. Addressing the ceremony, Mr. Pham The Duyet, president of Viet Nam Fatherland Front said in delight: "In 2005, 21 provinces and cities were given aid from the Fund for the Poor to erase slums. Thanks to the kindness of millions of Vietnamese people, the spirit of mutual assistance was and will be revived in the coming time."

It is not exaggerated to say that the campaign for the poor has enriched the Vietnamese people's soul.