More German tourists are booking Viet Nam as a holiday destination every year. Tour operators and state management have increased the country's participation at Berlin's ITB tourism fair, the world's leading travel trade show.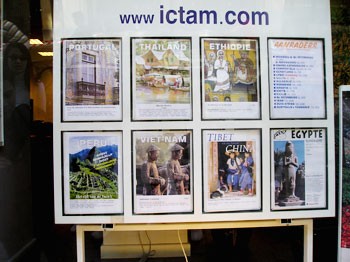 Viet Nam's image is boosted at an European travel agency office (Photo: Viet Khoa)
Twenty-three booths are under the roof of the Tourism Promotion Division (VNAT). Another 16 exhibitors from Viet Nam are multinational players who offer luxury accommodation amongst a wider range of Asian resorts. The campaign uses the "Viet Nam – the hidden charm," said senior VNAT official Mr. Bui Day Hung. This is the first time that promotional material has been printed in German as well as English.
"We have beautiful beaches and nice hotels, but we also want visitors to see our rich cultural heritage," Mr. Hung says. He pointed to a replica of an ancient pagoda overlooking the 23 exhibition stands.
Viet Nam is popular among European visitors is because of its friendly people, safety, politically stability, diversity of natural resources and reasonable prices, according to German tourist operators at the fair.
Viet Nam's state management is offering a closer look at the country's very old traditions and history. But one thing is missing: Germans like to travel by train, not only in Europe but worldwide, but there is no tour operator available who specializes in train travel. Insiders who come back from a holiday in Viet Nam know that Viet Nam's railways offer clean and comfortable coaches for tourists and affluent citizens, but this service is not yet offered abroad.
Vietnam Airlines as a real success story, according to officials at the ITB. The frequency of non-stop flights from Frankfurt to Viet Nam has increased. On average, 90 percent of the seats on flights to Ha Noi or Ho Chi Minh City are filled. The national flag carrier doesn't depend on tourists alone. More and more business people enjoy the non-stop connection. When it comes to service and reliability, VNA is now number seven in the international ranking of airlines.
There are many good reasons for this, according to the representative of Vietnam Airlines in Germany. Most important: VNA aircraft fly non-stop and are always on time. Almost always. The number of passengers traveling to Viet Nam found out that the service is improving. The market share of the competing airlines offering Viet Nam as final destination has dropped to 45 percent. It is likely that after the ITB has closed on Sunday more visitors will travel to Viet Nam and VNA will feel the impact.