The health ministry and the World Health Organisation (WHO) have jointly launched a campaign to improve hand hygiene to reduce infections in hospitals.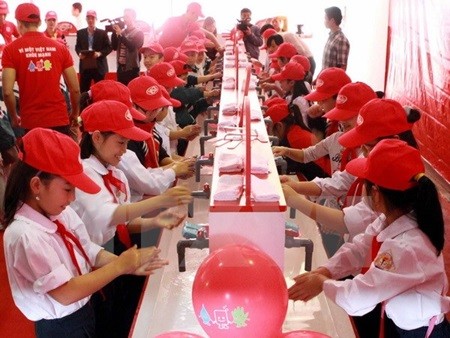 Children join a campaign to improve hand hygiene to reduce infections. — VNA/VNS Photo
The campaign, entitled "Save lives: Clean Your Hands," and celebrated yearly on May 5, aims to galvanise action at the point of care to demonstrate that hand hygiene is the first step towards reducing healthcare-associated infections (HAI) and improving patient safety.
Viet Nam is one of the countries that has pledged support to the campaign since 2009, to reduce the global health burden imposed by healthcare-associated infections.
Viet Nam also ranks fourth among 24 Asia-Pacific countries supporting the campaign.
At least 500 hospitals have signed a pledge with the ministry to take part in the campaign, while 73 others have registered to join the campaign on the WHO website.
Over the past six years, hospitals and healthcare units have strengthened awareness and supported healthcare workers, patients as well as their families to improve hand hygiene and thus prevent often life-threatening HAI.
Many studies have shown that HAI increase fatality rates, hospital treatment time and costs, and the use of antibiotics and antimicrobial resistance.
It also has a psychological impact on patients and their families.
May 5 is the official day of celebration, which reaffirms commitment to patient safety through hand hygiene and the use of alcohol hand rubs to prevent infections and the spread of pathogens in healthcare settings.