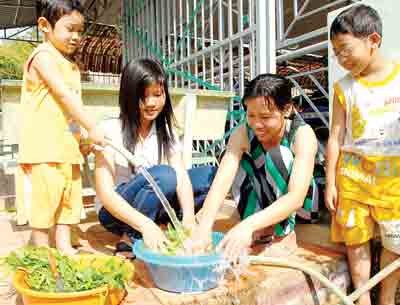 Can Gio residents  are happy to use fresh water ( Photo: SGGP)
The newly inaugurated water pipeline project on April 24, in the salt-marsh district of Can Gio on the outskirts of HCMC is set to restore the fresh water needs of over 71,200 people.
Tran Dinh Phu, general director of Saigon Water Corporation or Sawaco, which is the main project investor, said the city Peoples' Committee had asked Sawaco to construct the water pipeline to fully cover the demands of  Can Gio residents.
The suburban Can Gio District was the only district of HCMC not yet linked to the city fresh tap water system.
The project has been completed in just a year thanks to the support of city leaders as well as the cooperation of the local government and residents.
The project will certainly help improve the lives of local people and save the city VND50billion (US$2,4million) every year in subsidizing fresh water for the district.
The VND822 billion (US$40 million) pipeline will supply the parched district in two phases. The first phase will provide 6,000 cubic meters of water per day from April 24, 2011 and in the second phase will provide 39, 000 cubic meters of water from October 2011.
The 70-kilometer long pipeline passing through districts 7, Thu Duc and Nha Be will transport some 340,000 cubic meters of water per day from the Thu Duc District BOO plant. This is the longest pipeline in the country. Earlier Can Gio residents were reliant on water transported by tankers.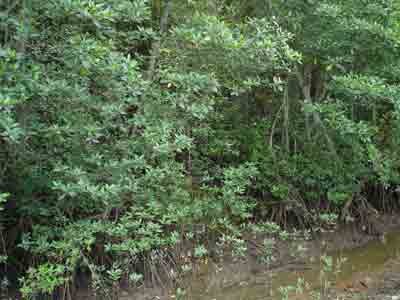 A typical tree in the salt-marsh district of Can Gio on the outskirts of HCMC (Photo: Thanh Tam)
Deputy Prime Ministers Truong Vinh Trong and Hoang Trung Hai; Le Hoang Quan, Chairman of the HCM City Peoples' Committee; Nguyen Van Dua, Deputy Secretary of HCM City Party organization; Duong Quan Ha, chairman of the city Fatherland Front and  Nguyen Thanh Tai, Peoples' Committee vice chairman  attended the event.
The Rung Sac (Sac Forest) road was also inaugurated on January 22, 2011. This new road links HCMC with the East Sea, crossing through the coastal district of Can Gio. It took nine years to complete and is expected to boost the eco-tourism potential of Can Gio district, which is already recognized as a biosphere reserve internationally.
The construction of this road along with other electricity and water projects will help boost both the social and economic development of Can Gio District. It is hoped that both domestic and foreign investors will be able to bring in lucrative projects here in future.