The Can Tho Bridge collapse led to the death of 50 people- hundreds of others were injured. After finding apparent violations of safety regulations, specifically with the support scaffolding used, investigators and police of Vinh Long Province decided yesterday to take the case to court.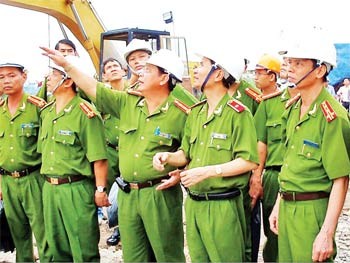 Leutenant General Pham Quy Ngo (second, right), head of Department of Investigation Police, is at the scene
Since the accident occurred, 38 workers and engineers who took part in the building of Can Tho Bridge have been questioned by the police. They all stated that they had informed their supervisors of the unsafe working conditions, but their warnings were ignored.
 
The initial investigation revealed that the collapse was caused by removing the supporting frame from the wet concrete too early. The scaffolding was too weak to carry the concrete's weight.
 
To make matters worse, the scaffolding used on the bridge project was not up to standard; the iron bars were made from recycled materials. 
 
In addition, the contractors were reported not to have retested the structure of the support system as they were advised to do.
 
More than 20 experts and professional investigators from the Institute of Crime Science and the Department of Investigative Police have been sent to the scene to discover the cause of the collapse.