Can Tho international airport upgraded from existing domestic one was opened in the capital of the Mekong Delta on the first day of the New Year 2011, marking a new step in the region development.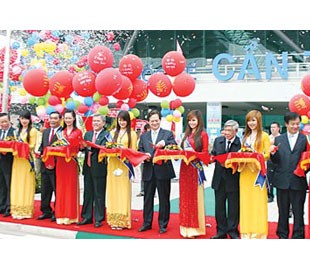 Prime Minister Nguyen Tan Dung (C) and Government officials cut a ribbon to inaugurate Can Tho International Airport on Jan. 1, 2011. (Photo: SGGP)
Can Tho city was excited on the first day of the New Year with the event. The flight carrying Prime Minister Nguyen Tan Dung and his wife other Government officials was the first plane landed in the airport.
A lot of elderly people excitedly caned to see the modern airport in their home town.
Nguyen Van Tuat, 80, said that he had experienced his whole life behind the airport and this was the first time the airport welcomed international flights.
I am happy as our country has strongly developed, he said.
Speaking at the inaugurating ceremony of the airport, Prime Minister Nguyen Tan Dung said that the upgrading of the Can Tho Airport opened a new opportunity for the region, played an important economic, defending and integrating role, gave a chance to sustainable development in Can Tho City in particular and the Mekong Delta region in general.
The airport upgrading project was begun 5 years ago. The Government has invested VND 520 billion to develop the old domestic airport into the international one. The airport was opened for domestic flights in 2008.
The Can Tho International Airport is the fourth largest international airports in the country and it is one of the important infrastructure constructions in the Mekong Delta, that has contributed to the region growth.
Other infrastructure constructions are Can Tho Bridge linking two riverbanks of the largest tributaries of Mekong River in the delta, Rach Mieu and Ham Luong bridges that join banks of smaller branches of the river.
After the airport, the Government has urged the exploitation of the Chanh Bo Mandarin Channel that links Tra Vinh and other provinces next year, aiming to speed the export of agricultural products in the Mekong Delta region.