A leather company that was recently charged with releasing untreated waste into the environment in Can Tho City has been fined VND 63.5 million (US$3,750) by the city administration.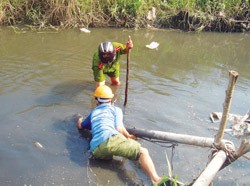 Evidence shows that Tay Do Leather Company releases untreated wastewater into the Hau River (Photo: Thanh Nien)
In October the city Environment Police caught Tay Do Leather Joint- Stock Company clandestinely discharging untreated wastewater into the Hau River.

Tests found the pollution level in the river to be many times higher than the permissible level. For instance, Cr6+, a carcinogenic substance, was found to be eight times the allowed level.

Tay Do was also found to have buried over 100 tons of untreated solid waste and dumped 450 tons of waste in the open, badly polluting the area and affecting the health of local residents.

The company, situated in Tra Noc Industrial Zone, was set up in 1989 but has yet to build a wastewater or solid waste treatment system.