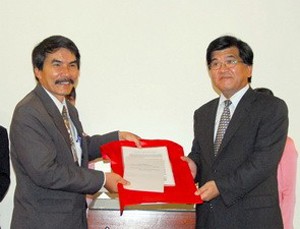 Ambassador Sakaba Mitsuo (right) hands over Japanese Emperor's doctoral thesis to the principal of Can Tho University, Nguyen Anh Tuan. (Photo: Vietnam Plus) 

Japan's Ambassador to Vietnam, Sakaba Mitsuo, May 11 presented Can Tho University with a copy of a doctoral thesis on a new goby fish found in the Mekong Delta by the Emperor of Japan, Akihito, in 1976.
The discovery of a new kind of white goby, scientific name Glossogobius Sparsipapillus Akihito and Meguro, added to scientific understanding.
This thesis was published in a periodical and had been earlier presented to the Hanoi University of Science and the Ho Chi Minh City University of Science (formerly the HCMC University of Natural Sciences).
The thesis would play an important role in the university's research and training on aquatic subjects, Dr. Nguyen Anh Tuan, the principal of Can Tho University, said at the ceremony.