Over 1,000 workers of Thien Ma 1 Seafood Co., Ltd in Tra Noc IZ, Can Tho province, went on strike November 28-29 after a 10 percent cut in salaries this month.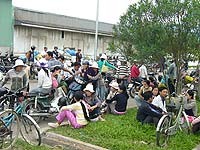 Workers of Thien Ma 1 Company go on strike on November 28 - 29 in Can Tho. (Photo: NLD)
The company cut workers' pay due to recent difficulties in exporting tra, a Mekong catfish.
The company's decision was met with strong objections from workers.
After meeting with leaders of IZ's labor union, Thien Ma 1has decided to postpone this month's wage cut.
Future salary cuts will be decided by the company's director in the coming months. However, if workers do not agree with the director's decision and continue to strike the company has said it will fire them.