Ongoing construction of a canal to link to a sluice gate of Srepok 4A Hydropower Plant in Dak Lak Province in the Central Highlands has blocked Ea La Spring, with rainwater now overflowing and flooding lower levels to inundate and damage hundreds of hectares of farm crops.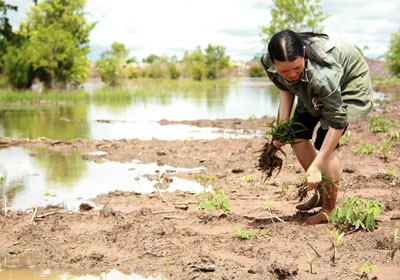 Rice and vegetable fields were inundated from flooding caused by ongoing construction of a canal at Srepok 4A Hydropower Plant in Ea Wer Commune in Buon Don District of Dak Lak Province (Photo: SGGP)
The Buon Don Hydropower Company has invested VND2 trillion (US$95.36 million) in the 64MW Srepok 4A Hydropower Plant in Dak Lak Province.
The 15km canal was being built through Ea Wer, Ea Huar and Krong Na Communes in Buon Don District to drain water from the sluice gate of the Hydropower Plant.
Soil debris from the canal construction site was being dumped around the Ea La Spring, narrowing its width from 5m to only 3m.
During a heavy rainfall on June 5 and 6, the Ea La Spring swelled up and overflow of water inundated nearly 100 hectares of rice and vegetable crops in Ea Wer Commune. Total damage was recorded at around VND500 million ($24,000).
In mid May, a local resident named Loc Van Rung spent VND25 million to grow three hectares of corn, of which one hectare has now been flooded, costing him nearly VND10 million.
Len Van Dung, from the same commune, lost one hectare of sugarcane crop. Dung said that earlier he grew cashew which did get him much profit. As a result, he switched to sugarcane this year in the hope of higher profits. 
Several areas under vegetables and rice were still submerged on June 14.
Nguyen Tat Phong, chairman of the People's Committee of Ea Wer Commune, said that before construction of the hydropower plant canal began, the Ea La Sring could drain floodwaters even after continuous heavy rains.
The People's Committee of Ea Wer Commune has proposed to the People's Committee of Buon Don District and the investor of Srepok 4A Hydropower Plant to assist affected residents and resolve related issues.
Khuat Van Son, a representative of the investor, said that they are currently pumping out floodwaters to save rice and vegetable crops. After waters recede, the company will examine the damages caused and disperse compensation accordingly.
 
The company will also design and build a spillway to drain out water from Ea La Spring straight into the canal. After the spillway is built, floodwaters will not lead to flooding of surrounding areas, said Son.