A red mud flood abruptly streamed into and inundated homes and crops in Duyet Trung Commune, Cao Bang town of the same name province in the northeastern region on the night of November 5.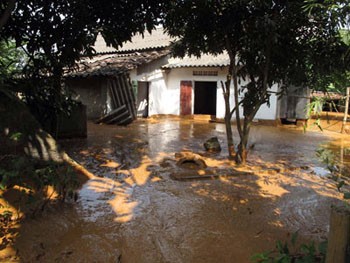 Red mud flood hit out at a resident' house in Duyet Trung Commune, Cao Bang town November 6 (Photo: Thanh Nien)
The sludge flood flew down from the breached wastewater reservoir of Na Lung iron ore exploitation plant, under Cao Bang Mineral Resources and Metallurgy Company.
On Saturday morning, the road leading to the plant turned a knee-deep stream of sludge. Red torrents of mud dipped rice and vegetable fields and overwhelmed homes and wells.
Le Ngoc Quang, deputy chairman of the town's People's Committee said that was not the first time Na Lung inhabitants suffered from the plant's red mud floods.
The commune authorities has ordered the plant to soon clean up houses and fields. In long term, it must have measures to decontaminate the area and compensate local residents.
Authorized organs have inspected over the case to seek for reason for the reservoir's breach.