The Executive Council of the Cao Dai religion held a ceremony in the Tay Ninh Holy See on September 5 to receive the Conventional Charter, revised, for the 2007-12 term.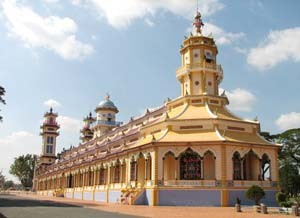 Tay Ninh Holy See
The ceremony was crowded with followers, monks and nuns, clerics and functionaries from 279 parishes of the religion nationwide.
Authorized by the Prime Minister, Chairman of the Tay Ninh provincial People's Committee Nguyen Van Nen handed over the charter to the executive council, expressing congratulations to the religion.
The Head of the Executive Council of the Tay Ninh Caodaism Holy See, Monk Thuong Tam Thanh, said since the council was founded in 1979 to handle religious affairs, the religion has set up its disciplines, created great unity among the entire sect, and enjoyed support and trust from the Party and Government, from the central to grassroots levels.
The Tay Ninh Holly See of Caodaism, also known as the Great Way for the Third Universal Amnesty, had its first conventional charter approved by the Government at its first congress held in 1997, giving the religion a legal status to promote its belief in an independent and unified Viet Nam.
The second and third congresses held respectively on 2002 and 2007 saw the charter revised again and again to become suitable to the reality. Their revised editions all received the central Government approval and local administrations' support.
"All this is evidence of the central Government and local administrations' good-will towards the religion, creating favorable conditions for the Executive Council to directly handle the religious affairs on its law and rules," said the chief cleric.
The 9 chapter, 36 article charter, revised, for the 2007-12 term calls on the Caodaism Tay Ninh Holy See to practice belief in line with the constitution and law of the Socialist Republic of Viet Nam, strengthening the national unity, equality and mutual respect among religions.