Even with landslides constantly causing damage along sea dykes and river banks in the Mekong Delta provinces of Ca Mau, An Giang, Tien Giang and in Can Tho City, landslide prevention projects have been on hold due to huge capital shortage.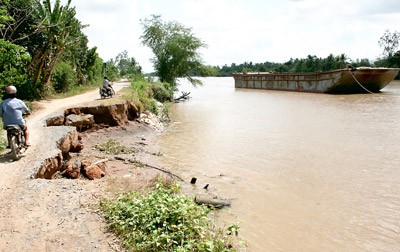 Landslides have broadened along the Cho Gao Canal in Tien Giang Province, affecting 2,000 local households (Photo: SGGP)
The 93km sea dyke, built in 1997, has played a very important role in prevention of salt penetration into hundreds of thousands of hectares of farm land in the southernmost tip province of Ca Mau.
The rising sea levels together with high waves and strong winds have devastated many sections of the dyke in recent years.
According to the provincial Irrigation Department, landslides have occurred along 7.6km of the dyke route. Of these, 6km might be breached at any time in Khanh Tien Commune of U Minh District as it has no protection of a forest area.
Meantime, projects to fortify and upgrade the dyke route have been on hold due to capital shortage.
To Quoc Nam, deputy director of the provincial Department of Agriculture and Rural Development, said it is necessary to build a concrete embankment under the sea water level, which is 50-100 metres from the dyke.
The distance from the embankment to the dyke will gradually form into alluvial soil, where trees can be planted to protect the dyke.
However, the project requires about VND3 trillion (US$144 million) while the province annually receives only VND50 billion from the central budget, most of which is spent on fortifying the most vulnerable sections of the dyke, he said.
The sea dyke route in Bac Lieu Province is also badly downgraded in several places.
NguyenVan Be, from Ganh Hao Town, said he had to relocate his house many times because of landslides. Sections in Nha Mat Ward of Bac Lieu City have suffered severe erosion due to high waves.
River landslides worsen
An Giang Province is the worst hit by river landslides. For the last three months, province authorities have had to issue emergency warnings three times in several areas along Hau and Tien Rivers.
Nearly 130 households have lost their houses. At present, the landslide continues to broaden in Tan Chau and Cho Moi Districts.
Tran Anh Thu, deputy director of the provincial Department of Agriculture and Rural Development, said that An Giang now has 52 riverbank areas over a 30km stretch that is prone to landslides. The most susceptible area is along 4.3km of the Hau River in Long Xuyen City.
The department has proposed a project to control the river flow. However, it will cost up to VND2.4 trillion ($115 million), which exceeds the provincial financial budget.
The plan to build 10.27km of embankment along Can Tho River is also running six months behind schedule due to capital scarcity.
In the meantime, nearly 2,000 households near Cho Gao Canal are under constant landslide threat in Tien Giang Province. Several of them have had to relocate their house two to three times.
The Ministry of Transport in October 2009 approved a VND4 trillion ($192 million) project to build the canal embankment. However, the project still awaits capital.