The Transport Ministry has asked Ha Noi Transport Department to publish maps of fixed inter-provincial coach routes to and from the city.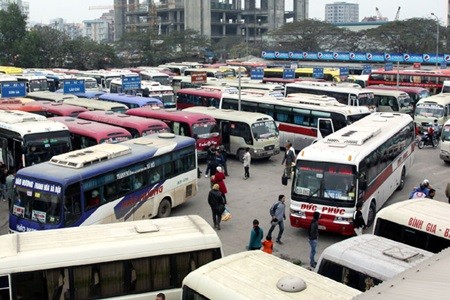 Coaches go in and out My Dinh Terminal in Ha Noi. The Ha Noi Transport Department will publish maps of fixed inter-provincial coach routes to and from the city. — VNA/VNS Photo The Duyet
The maps must detail registered and unregistered schedules to avoid overlaps in bus route registration.
This came amid reports of unclear State transport management.
During a meeting with Vietnam Automobile Transportation Association on October 15, Transport Minister Dinh La Thang said, "Someone told me that to have a slot to operate a coach route in My Dinh stadium costs up to VND600 million (US$27,000)
After inspecting coach registration procedures at the stadium, the department submitted a report to the ministry debunking the rumor on Monday.
The department affirmed that the slots have been transferred among transport businesses and individuals under the laws of business and co-operatives after merging and share transfer.
The department said it does not accept proposals from any coach companies to increase bus routes, adding that permit-granting procedures are publicly placed at single window systems at coach stations.
In a dispatch to the department on Thursday, Nguyen Hong Truong, deputy minister of transport, hailed the department's prompt investigation.
In the future, instead of permit-granting procedures, coach companies would be invited to bid to register for bus routes, the ministry said.