The army of personal freelance caregivers working in Ha Noi hospitals have to be organised and managed to improve the quality of service to patients, hospital managers say.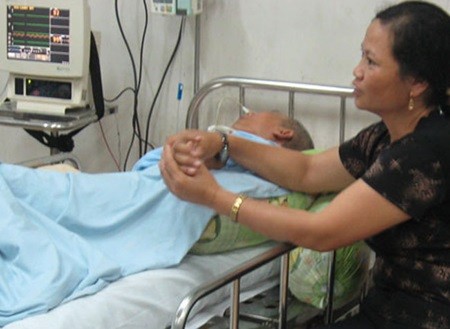 A caregiver takes care of her patient. Hospital managers say that personal freelance caregivers working in Ha Noi hospitals have to be organised and managed to improve the quality of service to patients. — Photo giadinh.net.vn
A report in the Urban Economy Affairs newspaper cited them as saying the caregivers need better training and supervision.
The caregivers are generally untrained rural people who help look after patients before and after they receive treatment. This includes feeding, washing, showering and taking them to the toilet.
While the demand for their services is booming, taking care of patients is not a job for everyone.
Nguyen Thi Hien, a caregiver from northern Thai Binh Province, said she had to deal with many difficult requests from her clients.
"One old man asked me to take him outside for a smoke while both the doctors and his family insisted that he was not to touch a cigarette while staying in the hospital," Hien said.
She said he would scold her or refused to take his medicine and even went on hunger strikes if she didn't take him out. "He was a nice and adorable old man most of the time, but when his family learned he refused to eat or take his medicine, then I'm the one who is to blame," she said.
Inexperienced caregivers were often confused with the numerous medicines patients have to take. One caregiver at the Central Geriatric Institute reportedly gave patients anti-anxiety medicine after lunch when they were only supposed to take it after dinner.
The patients slept throughout the whole afternoon, which caused quite a bit of a panic until they realised they had taken the anti-anxiety medicine.
Caregivers generally only receive 70 to 80 per cent of their pay. The rest goes into the pockets of service brokers found in every hospital.
When asked why they could not make an agreement directly with clients and skip the middleman, a caregiver said it was unwise as they would definitely get into trouble later.
A senior manager from Ha Noi's Friendship Hospital said while the extra help caregivers provided was vital, it was time they were organised. He said some caregivers took on more patients than they could handle.
On top of this, he said caregivers put extra pressure on hospital facilities, but they were not supervised and sometimes got involved in fights.
Nguyen Xuan Ha, from Ba Dinh District, said he took days off from work to care for his ill father after failing to find a suitable caregivers.
"The service used to be acceptable. Now after so many problems, we cannot trust anyone to take care of our father anymore," he said.
He said hospitals in the city should be in charge of organising freelance caregivers, giving them training and instruction to perform their jobs to improve both the quality on care-giving and caregivers' benefits.