Luxembourg's CargoLux Group will launch two direct flights a week between Luxembourg and Ho Chi Minh City in September to boost economic cooperation and further strengthen bilateral friendship, according to Mr. Jeannot Krecke, Minister of Economy and Foreign Trade of the Grand Duchy, who led a delegation of Luxembourg's enterprises to the city for the first time yesterday.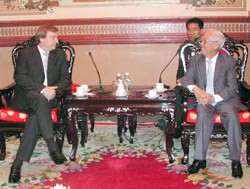 Mr.Jeannot Krecke (L) and Mr. Le Hoang Quan (R)
The city offered the honorable guests an impressive view of its youthfulness, activeness and socioeconomic achievements. The Luxembourgian organizations were keen on discovering scopes for investment and cooperation in a diverse mix of industries including banking, finance, transport, telecommunications, etc.
With regard to the European Union's (EU) investigation into the anti-dumping lawsuit against Viet Nam's leather footwear, Mr. Jeannot Krecke said that Luxembourg will struggle to ask for justice to be done in Viet Nam.
Mr. Le Hoang Quan, chairman of the HCMC People's Committee, thanked the visiting delegation of Luxembourgian enterprises and hoped that the two sides will be faithful partners, supporting each other in various fields.
The Luxembourg – Viet Nam business forum entitled "Luxembourg – Gateway to Europe" was held at the Park Hyatt Hotel on the same day by the HCMC Investment and Trade Promotion Center (ITPC) and the Department of foreign trade and investment of Wallonie.
It was regarded as a good chance for the counterparts of the two countries to enjoy direct contact with each other and to learn about good investment and business opportunities.